I can't grant PopClip access to control Google Chrome, specifically, the Subject field of a Gmail draft. I get this alert, but it is not dismissed by clicking either button: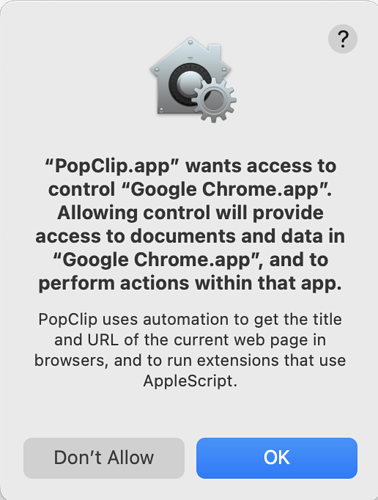 Here's what I see in  → System Preferences → Security & Privacy → Privacy → Automation:
(See comment since New Users are allowed to post only one image.")
Note that request for permission was recorded in Privacy but checkbox is empty.
When I click the empty checkbox, I can then click the "OK" button in the dialog box and it is dismissed.
After manually clicking on checkbox, Title Text works correctly.
Versions
PopClip 2022.5 (pcas/1003895/2/2022.5/2022-06-04/en/en-US) , macOS Monterey 12.4
Steps to reproduce
Create new email in Gmail.
Type text in Subject field
Select Subject Text and click on Title Case ("T") in PopClip
Request for permission dialog is displayed
Clicking on either "OK" or dismiss "Don't Allow" has no effect. Can NOT dismiss dialog without logging user out of macOS.
Expected result
Should be able to grant permission by clicking on "Ok" and dialog should be dismissed.
Actual result
See above.