macOS Ventura 13.2.1 (22D68)
PopClip 2022.12 (1004069)
Can't control other app, Plz help

I'm going to need a lot more detail about the problem.
I am having the same issue.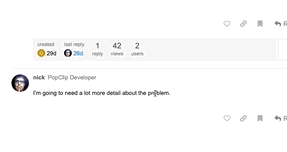 The problem involves extensions that call for AppleScript. It looks like PopClip is not able to request the Automation permission. Running sudo tccutil reset All doesn't solve the problem for me.