PopClip has a brand new website at www.popclip.app.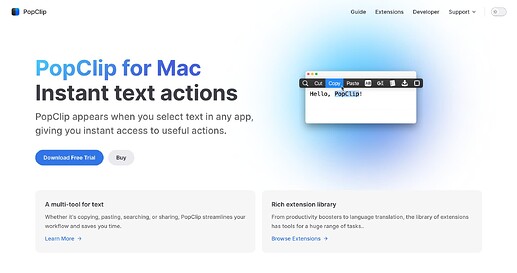 The new site includes:
A fully revamped user guide, expanded and entirely rewritten.

Updated and reorganised developer documentation, which now replaces the previous docs on GitHub.

An upgraded extensions directory with search capabilities and an enhanced presentation for extensions.

Mobile-friendly responsive design with dark mode.
Gone are the days of navigating through a mix of web pages spread across various domains and designs from the past decade. With this unified site, information is now easier to access, and future updates will be more streamlined.
I've tried to ensure that existing links to the old pages redirect to their new counterparts, so please tell me if you come across any dead links.
Completing this project has been a huge task for me. I feel like I've finally given PopClip the website it deserves.