I'm thinking of adding an in-app purchase to PopClip, and it might look something like this mock-up: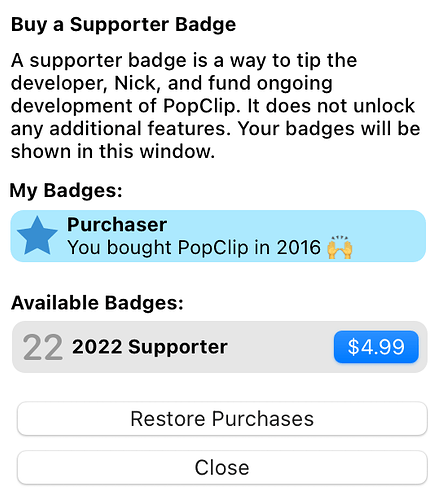 As a user of PopClip seeing this, I'd like to get your response.
Does this proposition make sense to you?

Your feelings about this in-app purchase in general? And about the price shown?

Does the "2022 Supporter" badge make sense to you how it is presented? (The idea is there will be a new badge available to buy each year – is this apparent?)
Please let me know in the comments.
Background: As you may know PopClip has been developed continuously for nearly 11 years now and never had a paid upgrade. I am often asked by long-time customers if there is a way to pay towards the app. This is my approach to asking customers to financially support the app, without resorting to a subscription or paid upgrades. I've not seen any apps do it exactly this way before so I'm curious how it hits to people.
As an aside, I'd rather be working on new features or extensions than adding this, but I've been promosing myself I'll try and be a proper businessman!
Edit: Graphic updated